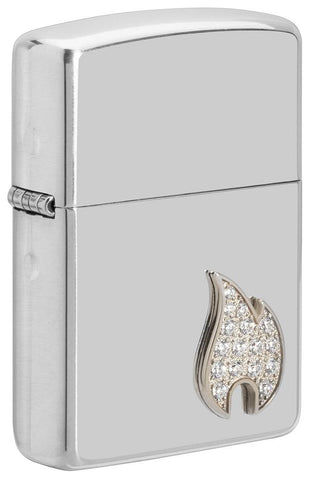 Sterling Silver Flame Emblem
SKU: 49554-000003
Please call 888-442-1932 to order this item.
Due to extended lead times on the production of this lighter, please call us if you would like to purchase this lighter. You can reach our consumer relations team at 888-442-1932.
This Armor® High Polish Sterling Silver Windproof Lighter is adorned with a cubic zirconia Zippo flame emblem that radiantly represents the legacy of Zippo. Zippo's famous flame is a hallmark of the lighter's reliability, appreciated around the world and remains a popular design element among exclusive clientele. Comes packaged in a gift box. For optimal performance, fill with Zippo lighter fuel.

Genuine Zippo windproof lighter with distinctive Zippo "click"
All metal construction about 1.5 times as thick as a standard Zippo case; windproof design works virtually anywhere
Refillable for a lifetime of use; For optimum performance, we recommend genuine Zippo lighter fluid, flints, and wicks.
Made in USA; Lifetime guarantee that "it works or we fix it free™"
Fuel: Zippo lighter

fuel 

(sold separately)
Lighter Specs:
     Height: 2.25″ 
     Width: 0.5″
     Depth: 1.5″
     Weight: 2.0 oz.
NOTE: Please expect possible delivery delays. This lighter requires an additional shipping lead time of 15 business days. This product cannot be shipped overnight or second-day air. 
California Residents: Prop 65 Warning